Since the Tigers defeated Arkansas in Week 13 to clinch bowl eligibility, the team has undergone a number of roster changes.
Now that the early signing period has passed and the transfer portal is closed for the time being, it's time to hand out a position-by-position bulletin for Missouri to see if the Tigers (on paper) have improved their defensive roster and special teams.
Defensive line: The defensive ends were probably the hardest hit with the transfer of Trajan Jeffcoat to Arkansas and Isaiah McGuire and DJ Colman declaring for the NFL Draft. It's a lot of experience and production at the start of the group.
The Tigers added Northwest transfer defensive end Austin Firestone and Arizona State defensive end Joe Moore. They also added three-star rookies Jordon Harris, Jahkai Lang, Serigne Tounkara and Sam Williams.
Firestone had three tackles and a tackle for the loss in a true redshirt freshman season. He will likely be in contention to be at least a rotational player.
Moore had 24 tackles, four tackles for loss, two sacks and a fumble recovery last season.
He originally signed up to Washington in December before things took a turn for the worse. He went to Cardinal Ritter High School in St. Louis and was a four-star prospect in the Class of 2020 who held a number of Power 5 offers, including one from the Tigers. Moore is likely to be in the rotation, but he may have a chance to compete with Arden Walker and Johnny Walker for one of the starting spots.
Harris, originally a tight end, will likely transition to defensive end due to his size at 6-7 and 230 pounds. He's a former basketball player and he's going to be a big project and will almost certainly be in a red shirt, but his height offers great potential.
Tounkara is a good running defender who is very physical and explosive. He's someone who could find his way into the effort and drive rotation on his own if he progresses at a steady enough pace this offseason.
Lang had 66 tackles, six tackles for a loss and two sacks in defense in his senior year at Troy Buchanan (Mo.). He's already signed up, so he'll be in spring football in March, which puts him slightly ahead of Harris and Tounkara.
Missouri has retained defensive tackles Realus George, Jayden Jernigan, Josh Landry, Darius Robinson and Kristian Williams. So the inside of the line is still intact. Sam Williams, who played defensive end at Callaway, Ga., is likely to move inside. He probably won't get too many reps, if any, as Missouri's coaching staff is high on Jalen Marshall and Marquis Gracial, but he certainly has the size Mizzou was looking for on the inside.
Overall, this group may not have someone who can put up the production that McGuire or Coleman did, but the defensive line as a unit has enough depth to maintain a formidable line of defense. forehead. NOTE: A-
Linebackers: The Tigers lost Devin Nicholson to the portal, but he didn't play a significant role on the roster, so losing him, from an on-field perspective, has minimal impact.
Towards the end of last season, Chad Bailey said he would return in 2023, however, Ty'Ron Hopper's whereabouts were unknown. He could have easily declared himself for the draft, but fortunately for the Tigers, Hopper decided to go back next season. So Missouri has the two starting linebackers in the fold next year to accompany the other six returning starters.
In this new era of the transfer portal, players are coming and going much more and much faster. Every player is basically on a one-year contract and coaches have to re-sign players to their own teams every year. So even though Hopper was on the Tigers in 2022, he's Missouri's top "addition" in that position.
Since there was a decent chance that Hopper could have been NFL-related, the Tigers went to the portal and signed Triston Newson, a JUCO first-team All-American who just racked up 107 tackles for Northeast Mississippi CC (Miss.). Had Hopper left Newson likely would have been the first to replace him in the starting lineup. It won't happen now, but he'll probably be able to spell Hopper when the latter isn't on the court for some reason.
Missouri also added three-star linebacker Brayshawn Littlejohn, who was a Class 5A All-State player at Gaffney (SC) last season as an outside linebacker. There are a number of players who will likely see the pitch before Littlejohn in 2023, but he is a solid addition to the position. Littlejohn has also already signed up for lessons, so he will be participating in spring football.
Hopper's reinstatement alone is huge, but getting another valuable rotation player and signing another player who will have time to develop is always a good thing. NOTE: A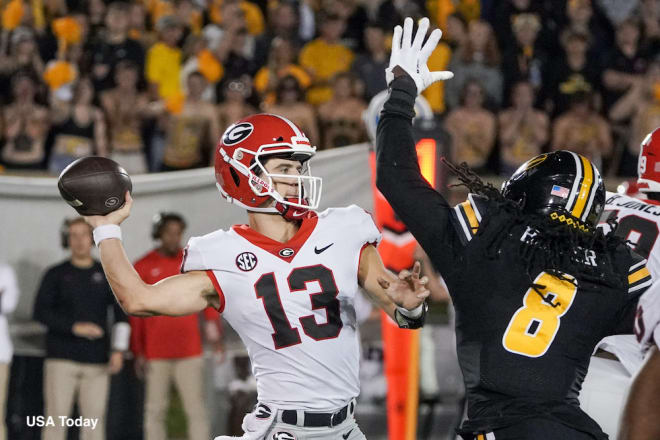 Secondary: The Tigers lost Martez Manuel in the draft and Jalani Williams in the transfer gate. Manuel is the biggest problem considering he's been captain for the past two years, but of the three Tigers who declared for the draft, he's easily the most replaceable as Daylan Carnell proved in 2022 that he is ready to take the STAR starting position. Williams was a role player, so like Nicholson, it's not a loss that will weaken the position on the pitch.
The team retained starting safeties Jaylon Carlies and Joseph Charleston, as well as starting cornerbacks Kris Abrams-Draine and Ennis Rakestraw.
Carlies has had his name attached to the NFL since the end of the 2021 season and Abrams-Draine was told he had a third-round mark for this year's draft if he declared, but he wasn't happy with it. The two returning, like Hopper, are good additions. Above all, Abrams-Draine because he and Rakestraw are one of the best cornerback tandems in the country.
Missouri added former Florida safety Tre'Vez Johnson and former Florida State safety Sidney Williams from the portal after signing four-star safety Marvin Burks and three-star defensive backs Nicholas DeLoach, Shamar McNeil and Phillip Roche.
Johnson is coming off the best season of his career which saw him play 12 games and start nine at STAR. He recorded 26 tackles, two tackles for loss and one interception.
Williams, who happens to be Abrams-Draine's cousin, arrives having recorded 12 tackles in 11 games.
Burks is the team's highest-rated rookie and is the 198th player on the Rivals 250. He is a willing and physical tackler as well as a playmaker and could play any point of safety as the defensive coordinator Blake Baker needs him to play. Burks has also signed up and will compete in spring football.
DeLoach is listed as a wide receiver, but he played wide receiver and defensive back at Cahokia, Ill., and he'll stay with the defense when he comes to Columbia. He had 94 tackles and four interceptions, including two returned for touchdowns. He was also a wrestler and that, combined with his number of tackles, suggests he's not afraid of contact, which is a common theme in this high school.
McNeil is big enough for a cornerback at 6-3, but he uses his size to his advantage. He's good at high-jumping balls and he mirrored the receivers very well last season at American Heritage (Florida) where he recorded 35 tackles, two tackles for loss, one interception and 15 pass deflections.
Roche has been told by Baker that he can be lined up for any job in high school, but his tape suggests he's an ideal candidate for the STAR job in the future. He's a physical and willing tackler, but he's also an excellent blitzer.
This group of positions is the most talented in the team from top to bottom and when you take into account all the returning starters, incoming transfers and players who will likely contribute off the bench (Tyler Hibbler, Tyler Jones, Isaac Thompson and Ja'Marion Wayne), there's almost no way for any of the recent high school signees to play. In this case, it's a good thing because by the time they're ready to play, they'll have had a year or two of seasoning. NOTE: A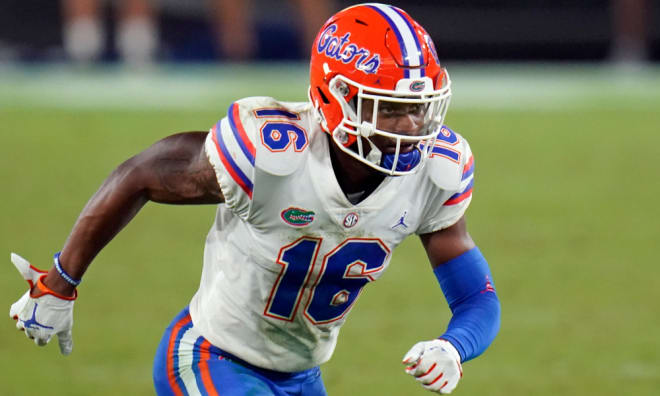 Special Teams: The biggest departure from special teams was punter Jack Stonehouse, who was traded to Syracuse. Stonehouse was fine but sometimes struggled with his consistency. So Missouri replaced him with Towson punter Riley Williams, who was a second-team All-Colonial Athletic Association selection and fourth in the FCS in punting at 44.7 yards per punt on 46 punts. Williams had 16 punts for 50 yards or more, 13 punts inside the opponent's 20-yard line and just three touchdowns.
The Tigers also lost returner Elijah Young to Western Kentucky, but in Nathaniel Peat and Abrams-Draine, they still have capable returners. The same can be said with Luther Burden III on punt returns, although someone like three-star receiver Daniel Blood can fill that role if needed.
Harrison Mevis had the worst season of his career in 2022 when he missed a career-high six field goals and scored 22 of 28 goals (78%). Nonetheless, at his best (5 of 5 against Georgia in Week 5, including three for 49+ yards), he's still one of the best kickers in the country and Mizzou is happy to have him back in 2023.
The Tigers also signed Blake Craig, a two-star All-State kicker from Liberty North (Mo.). Craig made 17 of 24 field goal attempts, including three 50-yard field goals (55, 52, and 50). He was also 50 of 51 on point after attempts.
Craig will be signed up mid-year for the Tigers and will be competing in spring football and may be lucky enough to be the kickoff specialist with Sean Koettingit's the start.
The Tigers improved at the punter after retaining one of the best kickers in school history, then capped it all off by signing a promising kicker who can fill the role in a year. NOTE: A
Stay up to date with all Mizzou news with your premium subscription
Talk about this story and more in The Tigers' Lair
Make sure you're up to date with all the Tiger news and headlines
Subscribe to our YouTube channel for video and live coverage